Frequently Asked Questions
What is a kokedama?
---
Kokedama originate in Japan and when translated, the word literally means 'moss ball' in English. It is a combination of bonsai, nearai and kusamono planting methods and is now very popular worldwide. The kokedama that I create are formed by shaping a specialized soil mix around a plant's roots, before carefully binding with moss and either twine or coco-fibre.
---
How long do kokedama last for?
---
I wish I had a clear-cut answer for this question! It all comes down to the plant's home environment, and whether it is receiving enough light, water and humidity to allow it to survive. In terms of the moss ball, the main consideration is how and how often it is watered. Regular watering, which is necessary for the survival of your plant, is also the thing that causes the natural twine and moss layers to break down over time, as they become damp during watering. If you are careful to only water your kokedama when it actually needs it ( see care instructions for your particular species), and are not submerging the entire ball in water each time you water, you will get many months out of the moss ball before your plant will need to be repotted. I have kokedama in my home that are over a year old - your kokedama could last for shorter or longer than this time frame, but this will be determined by the plants home environment, as well as your watering method. As a general guide, I would say an Entwined kokedama will last between 3 - 12 months before needing to be repotted, however due to the nature of the product, I cannot offer any guarantees on this.
---
Do you offer a guarantee?
---
Due to the fact that kokedama are live plants that are very susceptible to the level of care they receive, I cannot offer any guarantees with regards to the longevity of your plant. I believe that any damage caused to the plant by my own doing while creating the moss ball would be apparent within two weeks of creation - if your plant has died within two weeks of purchase, please do send me a message to discuss. I'd also like you to know that each plant species I offer has undergone a testing period where a plant of that variety has sat in my home for months - this is so that I can assess the plants aptitude for surviving as a kokedama, and so I can in turn offer that variety with the confidence and knowledge that it can survive in your home if looked after correctly.
---
Do kokedama need to be repotted?
---
Yes they do - the main reason for this will be due to the breakdown of twine around the moss ball. As it is a natural product, the twine will inevitably decay after months of getting damp due to watering. If you own a coco-fibre kokedama, it is likely theplant will only need repotting once the roots become visible on the outside of the ball.
When this happens you have two options. You can either get in contact with me to organise for your plant to have a general tidy up and a re-twine, or you can repot your kokedama into a regular pot. To do this, simply snip off the twine and unravel it (or cut off the coco-fibre), remove as much of the moss and soil layers as you can, and repot the plant using fresh potting mix that is suitable for your plant variety.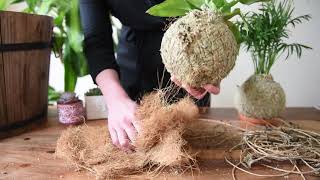 ---
How do I buy an Entwined kokedama?
---
There are a few ways to do this. You can send me an enquiry here, or message me on either my facebook or instagram profiles.
Alternatively, and this is especially good if you want to view my products in the flesh, you can find me at markets around Greater Manchester. Click here to see what events I am attending soon.
---
How do I care for a kokedama?
---
Caring for a kokedama is relatively straightforward, and comprehensive care instructions for each plant variety can be found in the 'Plant Care' section of this website.
---
I want to view your products before I purchase one, how can I do this?
---
Unfortunately I don't currently have a retail premises where my products can be viewed. However, I regularly attend markets and events in the Greater Manchester region, so these are the best places to view my work. To see where I am trading next, click here.
---
My kokedama has grown white mould on the twine?
---
Due to the natural aspects of kokedama, there is a chance that your kokedama can grow fungus and mould, especially on the base of the moss ball during the winter months. This is harmless to the plant but can affect the aesthetics of the product. If this happens to your kokedama, wipe the mould off with a damp cloth and soap. A spray of a mild surface cleanser such as dettol can also be effective. Just make sure you don't spray the plant itself. Moving the kokedama to a brighter, more airy position can help prevent mould coming back. Mould can be caused by overwatering, this is why we strongly recommend aginst watering via the soaking method. Instead, water using a slow stream directly into the top of the plant if possible. If you have a persistent problem with mould please get in touch.
---
---